Masala Tokri is a premium gourmet spice brand that is gaining popularity because of its 100% natural and authentic blends. It's beautiful to know about this mother-daughter duo who turned their hobby into a startup.
Spices are an integral part of our culture across the country. Be it in the savory dishes in your main course or your dessert – it makes the food delicious. And we have seen that India consumes an enormous quantity of spices and exports them to other countries.
Spices are the most indispensable ingredient in the Indian kitchen. You add a dash of your spice of choice to your food and VOILA! You've got home-cooked yummy food at your fingertips. As per the reports of the India Brand and Equity Foundation (IBEF), India has exported $3.65 billion worth of spices in FY20.
Spices can even transform a bland dish into a mouth-watering one. Though the spice market in India is dominated by 2-3 big players who've been in this business for centuries. But now there are a few small businesses that have seen the peak of success. And one of these companies is Masala Tokri, a Mumbai-based spice company started by Urmila Samant and Aarti Vikas Samant.
Masala Tokri – The Beginning of the Mother-Daughter Duo's Company
Urmila Samant is a culinary expert who is a certified expert in spice processing technology and has 20 years of experience in the spices industry. Being inspired by the diverse food culture in India, she started making her concoction of Indian spices.
And soon she had sold her homemade spices to her friends and family and they were being accepted happily. Soon after making a WhatsApp group, she started receiving orders for her spices from several customers. Urmila Samant also started exporting her masala to places abroad, such as Dubai, UK, UAE, and Singapore.
In 2018, Aarti Vikas Samant, Urmila Samant's daughter, and a digital marketer observed that her mother's homemade spices became a talking point within the women community. She was not late to realize the immense potential that this business had and turned it into a formal business.
In 2019, the beautiful and hard-working mother-daughter duo launched their business, Masala Tokri, a premium gourmet spice brand. They launched blends from local regions of India. They together created a product range for customers who are seeking excellent quality, natural, and chemical-free products.
Masala Tokri – Preserving the Traditional Indian Cuisines
Masala Tokri describes itself as an artisan spice-mix brand, crafting blends from best-in-class natural ingredients from heart-land India. India is diverse and culturally nuanced, so they explore these various artisanal flavors to give us that authentic taste of traditional recipes which would've been otherwise lost.
We feel so blessed to know about their incredible work that helps us preserve our traditional Indian recipes in this ever-growing world of trying different recipes every passing day.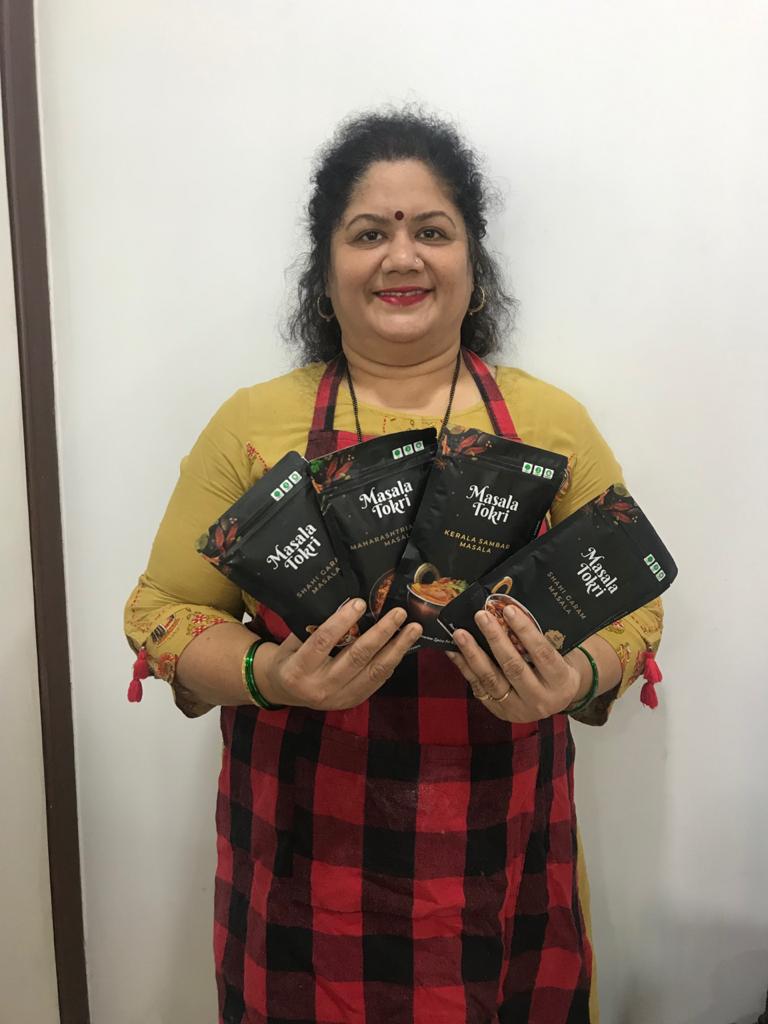 As said by the founders of Masala Tokri, they had started with five basic masalas which are Shahi Garam Masala, Mumbai Pav Bhaji Masala, Awadhi Biryani Masala, Kerala Sambar Masala, and Malvani Meat Curry Masala. And now they have about 11 products including Giant Fish Curry Masala, Malvani Meat Masala, and Pindi Chole Masala.
The mother-daughter duo said that they first roast the spices in a machine that was created by Aarti's grandfather and then hand pound them to ensure they're not too powdery. Their masala also has a shelf life of one year.
Having its main office in Mumbai, the startup also works with online channels like LBB, Amazon, Flipkart etc. At the moment they are focusing on expanding their business in one city at a time, which is a smart thing to do. They've already captured the Mumbai and Pune markets and their next targeted market is Gujarat.
Some of their important clients are Zida Impex LLP, Shital Innovative Foods, Haiko, O basket, Dorabjees, etc. Their offline stores include Haiko, Gourmet Grocers, and many others across Mumbai and Pune.
The best thing about Masala Tokri is that their products are free of any chemical or preservative and are freshly pounded in their own Masala Chakkis. This adds to their masala having a better flavor and coarser texture, giving us the authentic, regional, and traditional taste. And this is also why it attracts a huge number of customers.
If you liked this story, do read about this young woman, Niharika Bhargava, who founded preservative and additive-free products.
To know more about Masala Tokri, please check – Website, Facebook, and Instagram.
If you know about more inspirational stories about a person, company, new idea, or social initiative, and want us to write it on mad4india.com, share such information with us on Facebook or LinkedIn.