Mangal Shah, also known as Mangaltai, is a 68-year-old humanitarian who has devoted her life to helping the world's most marginalised, disadvantaged, and helpless children and women.
Her willingness to care for and assist HIV+ children led her to be the godmother figure to over 100 such children after working with them for over two decades.
Being a woman in the 1980s and 1990s, she made a bold attempt to work on a taboo subject like HIV/AIDS. But it was her unwavering persistence and attitude that got her to where she is now.
In India, HIV/AIDS is still a sensitive topic. This woman has made a brave effort to work on this issue in the 1990s. Her unrelenting determination and perspective helped her get to where she is now.
Mangal Shah Mothers HIV/AIDS Children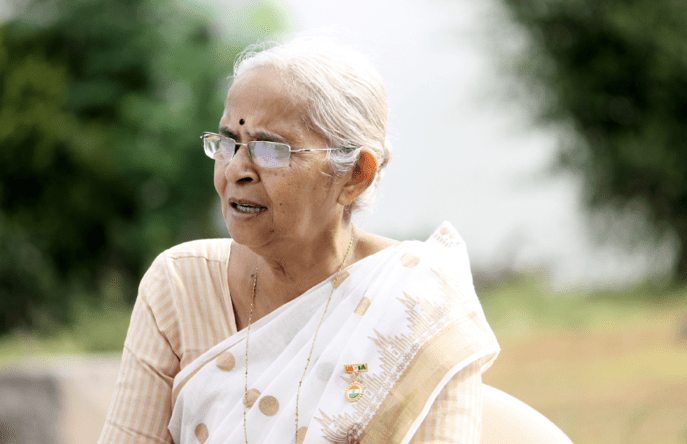 When other ladies in the household focused on puja-archana soon after her marriage, Shah, then 17 years old, was more interested in aiding the poor.
She saw there was a lack of family support for women when she went to a government hospital to aid disabled individuals, pregnant women, and HIV positive female sex workers.
Shah, therefore, resolved to look after and assist such folks. She started bringing home-cooked meals to the hospital's poor patients. She quickly realised the need of working with HIV/AIDS-affected female sex workers, the most marginalised group of women in Maharashtra's Solapur region.
Shah's mission to raise HIV/AIDS awareness among female sex workers began roughly 35 years ago. This occurred at a time when HIV/AIDS was regarded as the most heinous and lethal sickness known to man.
Shah's recalls how, when she and her daughter Dimple were trying to raise HIV/AIDS awareness among sex workers in Pandharpur, they were notified of two girl toddlers, ages 2.5 and 1.5, who had been abandoned in a cow barn because their parents had died of AIDS.
Their family believed that the girls would bring dishonour to the family and put them in danger of illness. When Shah and Dimple failed to persuade the locals to look after the girls, they decided to take them home.
They looked for an orphanage for HIV-positive children, only to discover that there were none in the district, much alone in Maharashtra.
They've been caring for and rehabilitating HIV-positive youngsters since 2001. Shah and the kids have a very close relationship. These youngsters have a strong need to be cared for by their mothers. These youngsters should be joyful, and every minute of their lives should be full of joy. At Palawi, we strive to achieve this.
Project Palawi is a Maharashtra-based organisation run by Prabha Hira Pratisthan. Maharashtra is one of India's hardest-hit states in terms of HIV/AIDS prevalence. Palawi claims to be Maharashtra's sole HIV/AIDS-focused institution, focusing on offering solutions and system-change for those living with the disease.
About Palawi Foundation
Palawi is now supported by local donations and funds from foreign organisations. Palawi has also used Milaap and other crowdsourcing sites to raise cash for its mission.
Palawi has established a number of programmes and come up with a number of new concepts to reach out to the most vulnerable groups during the last 20 years.
It has been raising awareness among various segments of society as well as providing residential care for orphan children and other HIV/AIDS patients. It has served as a warning sign for HIV-positive orphans.
The organization's main goal, according to Shah, is to protect rights, equality, and citizenship.
Palawi, she claims, has ensured access to treatment and care services for people living with HIV and HIV positive children, mitigated stigma, and built an agency between many individual people from unserved and marginalized communities, as well as their families, who deal with multiple socio-economic issues as a result of their HIV positive status, with the assistance of 50 office staff and over 50 volunteer groups.
They had begun with two children in 2001, had 15 children accepted in 2005, and had 69 children admitted between 2006 and 2010. Between 2011 and 2015, the number of children climbed to 88, with 112 children in 2018, and 110 children in 2019-2020. It is now caring for 125 HIV-positive youngsters.
In the future, the charity wants to establish "Matruvan", a facility that can house 500 HIV positive orphan children. It also intends to make these kids self-sufficient and independent enough to support themselves.
If you loved this story, you can read about Journalist Sonali Khan Quits Career To Dedicate Herself To Uplifting Millions Of Children And Women
If you know more inspirational stories about a person, company, new idea, or social initiative and want us to write it on mad4india.com, share such information with us on Facebook and LinkedIn.