When you order Chhole Bhature on a Sunday morning, you will anticipate the kitchen to be chaotically busy with chefs shouting commands amid a cacophony of boiling oils and clashing pots. But still, when the order gets delivered to your place, you find this is not the consistent taste you were expecting.
Indian cuisine is very complicated. You can judge in no time that some other chef prepared your food. It can not be consistent with the change of hands. To combat the issue of dependability of labor, Mukunda Foods has transformed the whole idea of an Automatic Kitchen.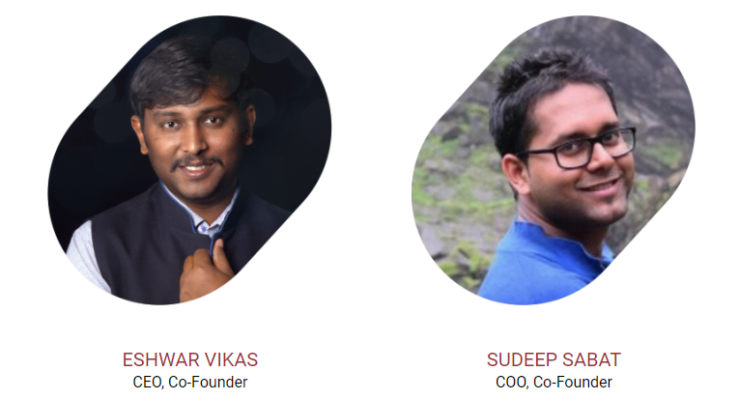 Mukunda Foods and Its Automatic & Robotic Story
Eshwar K. Vikas and Sudeep Sabat co-founded the kitchen robotics business Mukunda Foods Private Limited in 2012. This team is always creating new products that have the potential to revolutionize the concept of an automatic cloud kitchen. Their kitchen bots improve the consumer experience, lessen reliance on labour, and speed up consistent brand growth. They are passionate about their work as a supplement to R&D, designing and producing goods.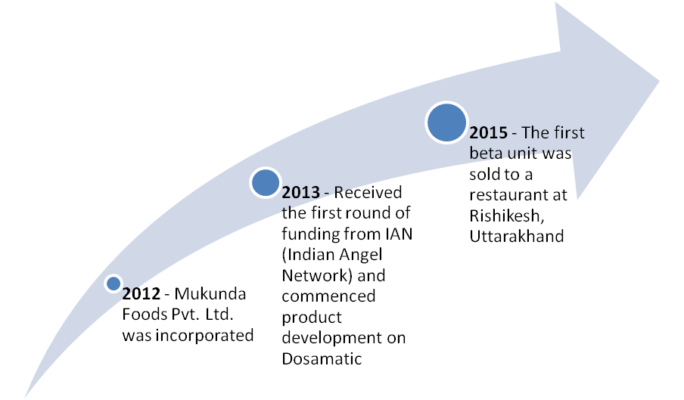 The question of why the human race's technical advancements have not yet reached the kitchen was where it all started. Mukunda Foods filled the void and transformed the kitchen with its first product, the Dosamatic, by bridging the technical divide. When one considers how little our culinary implements have changed throughout the millennia, one can clearly see the technology gap in the kitchen. Mukunda Foods made the decision to bridge this gap by making a concerted effort to upgrade the kitchen's technology.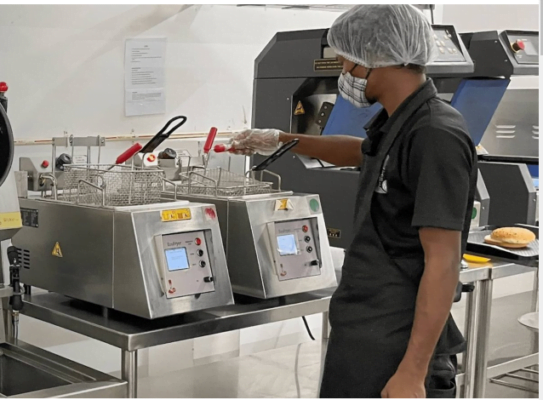 Product Portfolio
Mukunda Foods offers the best of the smart kitchen solutions that a cook needs and deserves. This automatic machine is the way to go if you manage large kitchens with numerous outlets in various locations. It flexes cutting-edge features like IoT Connectivity and has a tidy, appealing appearance with a variety of menu options. It promises to alleviate your culinary problems, produce delectable meals, and provide your organization with several prospects for growth.
Eco Fryer
When you're frying for paying clients who expect high-quality food with consistent flavour, it's not tough with an Eco-Fryer.
Put the food in the basket and choose the desired menu; the food will automatically be fried at the predetermined temperature and time. There are up to 50 recipes; choose the right one from the list and the proper serving size.
Dosamaker
Introducing the autonomous dosa maker from Mukunda Foods, its first-ever product. This professional dosa maker uses cutting-edge technology and can produce up to 50 dosas in an hour. It has a variety of features that guarantee to simplify your life and make the investment worthwhile for your business kitchens.
Because of its energy efficiency, you won't need to spend as much on power. This completely automatic dosa maker supports a variety of batter types and self-cleans as well. It upholds a constant standard for the output's flavour and quality, giving customers the same wonderful flavor each and every time.
Its extensive specifications ensure that it will fulfil its obligations and keep working for a longer time. So, spend your money on this mobile, table-top smart kitchen technology and create mouthwatering dosas of all varieties at the push of a button. Make use of a variety of modification possibilities to create the exact version of this South Indian oddity that you like.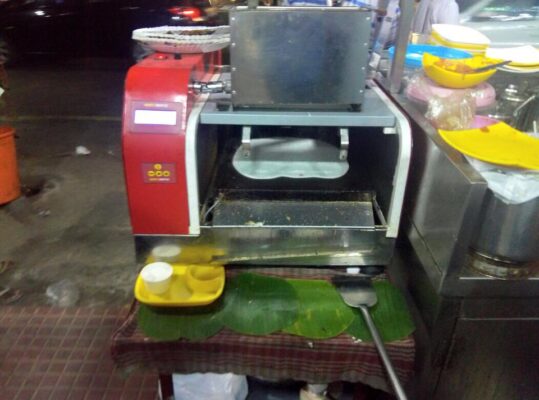 Not only dosas now, with its advanced technology, but you can also use this dosa maker for other batter-based dishes.
Wokie
Hello, Wokie! Wokie is an automatic cooking station that can prepare any cuisine that uses a wok, including noodles, pasta, several types of fried rice, curries, appetizers, and snacks like poha and upma. Wokie will make it incredibly simple to routinely offer new dishes and add them to your menu. Only minimal human involvement is needed to complete the cooking process. Your culinary crew is now able to multitask. Now put your operational concerns to one side and pay attention to your customers.
RiCo
Smart rice maker-RiCo gives you peace of mind if you manage a QSR, restaurant, or cloud kitchen. It saves you from the constant audit process of water proportions and the time taken to cook the rice.
E-Pan
Most commercial kitchens struggle to make wraps that are evenly cooked and perfectly flaky and supple. Each of these recipes is prepared according to a different schedule and at a different temperature. Mukunda Foods offers you a perfect automatic grilling machine that cooks flatbreads, patties, and parathas more rapidly and effectively. In order to prevent overcooking or undercooking and ensure that the meal tastes exactly as it should, it ensures that each loaf of bread is cooked at the appropriate temperature for the ideal amount of time.
Key Principles Governing the Automatic Idea
They are adept at pinpointing and precisely addressing the problems that our clients face.
They strive for the ongoing growth of our stakeholders and the business as a whole.
They take on projects, complete them, and always look for new chances.
They have a well-oiled system that guarantees prompt delivery and consistently upholds the highest standards.
They have faith in their mission and team's talents to continue pushing the limits of what is possible.
With a vision to revolutionize the QSR industry with Nucleus (Automatic) Kitchens, Mukunda Foods is determined to reduce the dependability on manpower and reduce the CAPEX required.
Feature Image Source: Mukunda Foods
If you loved reading the story of Aai & her cloud kitchen, you can also read about 10 Great Indian Inventions That We Thought Was Foreign But Originated In India
If you know more inspirational stories about a person, company, new idea, or social initiative, and want us to write it on mad4india.com, share such information with us on Facebook and LinkedIn.