Success is no accident, it requires a lot of hard work, persistence, and skill. This story is about one such group that is fighting against all odds to make a point. We are talking about Pandit Ji Kitchen & Delivery Point. Differently-abled people of Meerut, Uttar Pradesh run this kitchen.
These people want to lead a respectable life by becoming self-reliant. They cook together, pack the food in tiffin, and deliver it to houses with lots of love. The founder of Pandit Ji Kitchen & Delivery Point is also different-abled.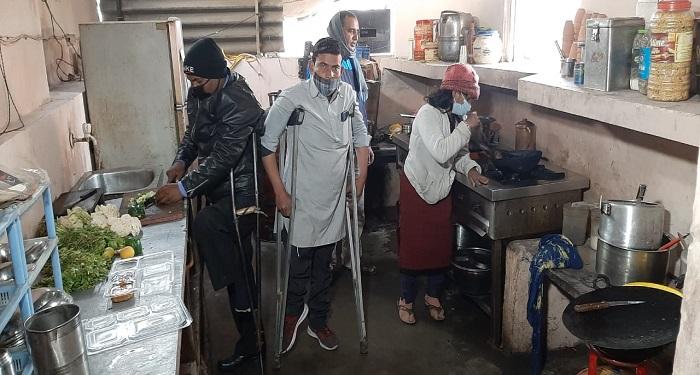 What is Pandit Ji Kitchen & Delivery Point
Pandit Ji Kitchen & Delivery Point in Meerut has set an example for society by recruiting differently-abled employees amid the Covid-19 pandemic. It is a unique initiative, where kitchen service is being run by people with disabilities.
Pandit Ji Kitchen & Delivery Point was started at the beginning of 2020. To overcome the challenge of the Corona epidemic period and earn a livelihood, they launched this initiative. . In conversation with us, one of its founders, Amit Kumar Sharma said:
"All our staff members are differently-abled (All workers, cooks and even delivery boys). We want to make people with disabilities self-reliant and provide them with livelihood opportunities."
How did this kitchen service start
Amit says, "When the pandemic started, we were unemployed, so we opened this restaurant. I felt that we should work to empower differently-abled people. We have two differently-abled women who cook and five differently-abled men who deliver the food by scooter. We like this work and we feel satisfied."
Gautam, another founder of the restaurant, says that they avoid the use of the Food Delivery App because it will defeat their core purpose of opening the restaurant. They want to use their own team for the delivery instead of outsourcing it to third-party apps. The employees are extremely happy with this job and are grateful for the opportunity.
Dream to make it big
Amit Kumar Sharma said that the aim of this initiative is to empower the differently-abled community in their region and give them an opportunity to earn a living. He added that they take extra care to make their meal like a home-cooked meal.
Amit wants to implement this service across the country for the benefit of the larger group. This can be a nationwide initiative for creating employment opportunities for disabled people.
To know more about Amit Kumar Sharma and their initiative, call him at – 94128 33843.
If you know about an inspirational story about a person, company, new idea, or social initiative, and want us to write about it on mad4india.com, share such information with us on Facebook or LinkedIn.