Several people visit Mumbai beaches during their vacation, but how many of you have noticed the plastic trash lying around the seashores? The amount of plastic waste is a huge concern and a major threat to mother nature, ocean life, and many more.
While many continue to dispose of plastic around, this father-mother duo came across that their kids were playing with plastic waste at a beach which led them to come up with a plan.
Lisbon Ferrao and his wife Zsuzsanna Saldafrom made the decision that they wanted to provide their children with the same beach experience that they enjoyed as kids. They cleaned up seven cities of Mumbai beaches through their initiative 'Vasai Beach Cleaners'.
The 'Vasai Beach Cleaners' currently taking a step toward restoring clean sands to Mumbai Beaches.
Family of Four Teamed Up to Clear Trash From Mumbai Beaches
In 2017, Lisbon had plans to visit the beach with his wife Zsuzsanna Salda, son Lucius, and daughter Nascha. The young children were eager to begin building their castles and surfing the waves. But the reality was completely different from their expectations.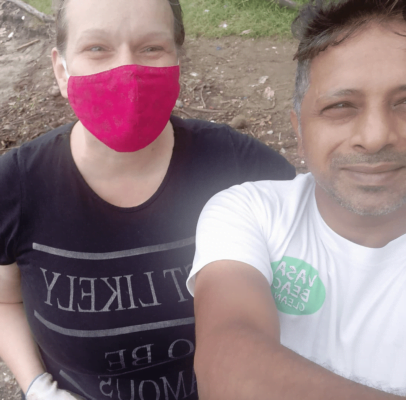 During their vacation, the kids started playing with the trash that was left on the Borivali beach.
They took matters into their own hands. They would begin each visit to the beach trip by picking up plastic trash, bottles, and various other waste and putting them in dry refuse bins. Having done this a few times, he posted on Facebook the date and time of a beach clean-up.
The children and Zsuzsanna started to pick up the trash that was lying around on the sand. They took pictures, uploaded them on Facebook, and used those photos to highlight the "before and after scenes" at the beach.
People were impressed by the beach clean-up images that he had uploaded on social media, which went viral. Soon, volunteers from all across Mumbai arrived, eager to join their team and clean the beaches.
Days passed by and a four-person act had grown into a 12,000-person volunteer project.
He goes on to say that these are folks who may have come for a single day or who have continued to attend the weekly clean-up activities.
Regardless, the figure indicates 12,000 people who have spent an hour or more cleaning their city at some point.
'Vasai Beach Cleaners' – An Initiative That Cleared 650 Tonnes of Plastic From Mumbai Beaches!
With the platform gaining traction, Lisbon decided to formally launch it under the name "Vasai Beach Cleaners." The organization handpicks plastic and other waste from the Mumbai Beaches, and the team has cleaned over 650 tonnes of plastic so so far.
Their goal is to create a clean environment for animals, birds, and natural forests to thrive.
Every week, new people come to join us. They conduct the clean-up drive every Sunday from 7:30 am to 8:30 am.
Bhuigaon beach has been the main focus of the group's efforts on seven beaches in Vasai. An average beach clean-up lasts about an hour.
Recycle, Recuse & Repeat
To further the idea of sustainability, the garbage collection equipment is also reusable. This also applies to cement bags, tarps, sheets, and clean-up-after-use safety gloves.
They were aware that the majority of the trash they were picking up from the beaches was being dumped. They were removing plastic from the beach to prevent it from entering the water, but on the other, the local authorities took it, it ended up on land, and it was burned.
At this point, he made the decision to begin producing paver blocks and plastic granules from this recycled material to fill potholes in the road. The idea, which is still in its early stages, includes shredding the rubbish at a commercial facility in Vasai so that the resulting powder can be used to create the blocks. There are other interesting startups like Econiture and Decathlon that makes interesting products from plastic waste.
He's also created planters out of the powder and claims to have sold 150 to nurseries so far.
If you loved reading this story, you can also read Couple Turns Plastic Waste Into Plates And Earns Rs 2 Lakh A Month With Their Startup, Papla In Kerala
If you know about more inspirational stories about any person, company, new idea, or social initiative, and want us to write it on mad4india.com, share such information with us on Facebook or LinkedIn.