The story of this crockery bank begins when on an average Indian day, she was travelling with her family back to her home. She observed that a heap of disposable plates was gathered in the corner of a road. The whole journey she could focus on nothing else but the various kind of plastic dancing on the roads of Her city, Faridabad.

Tulika Suneja is a homemaker, she often helps her husband with the family business and takes care of her two children. She is a very passionate and caring mother. All her life she tried to provide the best for her children, be it their schooling, their choice of life, food, or actions. She is a disciplined mother who wishes to provide them with the best possible things.
But the changing atmosphere, climate change, degraded quality of air, and hygiene issues, often made her worry about the future of her children and the earth. The sight of plastic all over the road filled her heart with pity and agony.
"As parent, I try to provide everything to my kids, but how will I ensure that they live healthily, this much amount of plastic that we used in our day-to-day life will destroy the planet. Or actions will lead to the suffering of the next the next generation"

Tulika Suneja
Tulika Suneja was born in karnal a city of Haryana and she grew up understanding the importance of a sustainable lifestyle. Her parents always focused on utilizing things carefully and her childhood understanding of nature and environment kept her connected to her roots. Since childhood, she has been very particular about her actions toward nature. Tulika was doing her best, she was practising a plastic-free life herself, practising sanity and sustainability in her use of nature.
But she was not satisfied with it, she knew there was more that needed to be done for the next generation. After struggling for many days, a random thought strikes her – what if people start using steel crockery instead of plastic plates and glasses, this will eliminate the use of plastic plates at a huge level.
"We use so much plastic that can be avoided but we are just careless. In the name of religion, we do a lot of good but that good comes with unimaginable consequences. The plastic plates we use to distribute "prasad" or the plastic glasses used to serve "Sharbat" to passer-by contributes to a huge amount of plastic waste each day. "

"In old times our great grand parents use to exchange utensils as per their needs from one household to the other. We still use steel crockery in our household, we can restart the practice of sharing utensils "

Tulika Suneja
Tulika Became The Steel Lady Of Faridabad With Her Crockery Bank
Tulika discussed this idea with some of her friends and suggested they join her in creating a crockery bank where they can loan people steel crockery in replacement of plastic plates. But no one came positive to join her, some felt it was way too effortful for which they had no time, while some excused her by saying that it won't be secure as various people will keep visiting their place for borrowing Crockery and they are not comfortable with visitors walking in.
Tulika was highly disappointed as she felt already losing in this mission to reduce single-use plastic plates and glasses. When she was almost giving up on this idea her husband came in for the support of her idea as the strongest pillar. He motivated Tulika to start this project on her own as it was her idea and she alone is enough to execute it. A little motivation was all that our Steel Lady needed.
In the year 2018 Crockery Bank of Tulika was started. Suneja started her crockery bank with the motive to remove single-use plastic cups, plates, spoons, etc from the roads of Faridabad. She invested her savings in buying the steel crockery and opened the gates of her home for all those who understood the cause and joined her.
Today, Tulika's Crookery Bank is a huge contribution to protecting the environment, more than 5 lack plastic plates were replaced with the same set of steel plates. Many like-minded people connected with her and now 6 de-centralized crockery banks are available all over Faridabad. Not just Faridabad, people all across NCR visit Tulika to seek loan from her Crockery Bank and contribute their share of good.
Her plates have travelled to Karnal, Kahnor, and other parts of Haryana. Anyone can borrow her Crockery to use in marriages, parties, religious get-to-gather, or for any purpose they like and return them after the use. All they have to do is submit a security fee, and when they return the Crockery they can take their security back. The only thing borrower has to make sure of is to keep the crockery clean. This bank is free of charge.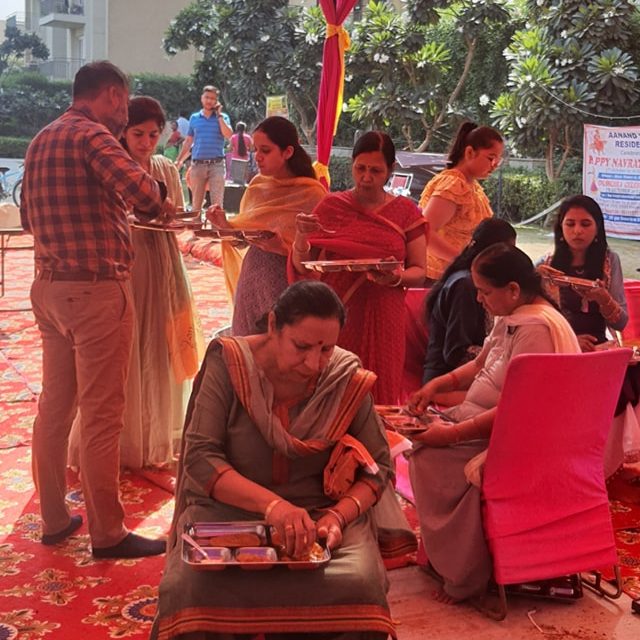 It was not easy to run such an initiative all by herself, there were many problems this Steel Lady faced on a day-to-day basis. There was a limited investment made by her therefore she was not able to provide utensils to each one who asks for them. Sometimes people were not careful with the utensils and ended up losing or damaging them. Due to her lack of support, she had to maintain a record of all the units by herself, be it their cleaning or their count Tulika would manage her time and take care of everything.
The optimistic approach of this lady has created awareness of the subject among many people around her. One step lead to the other, the more Tulika connected with nature the happier she felt. In the year 2020, she registered her NGO named Green Hands to educate people about the evils of plastic use and other environmental issues. The government is trying their best to eliminate single use plastic products but we are not taking the call seriously. It's maybe because we don't know Why We Need To Take Single-Use Plastics Ban in India Seriously. Tomorrow will be the results of our actions today.
Green hands promise to take a step forward each day for a better tomorrow. Along with a team of like-minded people, Tulika is planting Trees, replacing plastic bags with cloth bags, educating people, etc. There are various Ways You Can Contribute To Reduce Plastic Pollution In View Of Plastic Ban In India, but people don't take orders or nature seriously until taught in the right way, Tulika is conducting mini camps to help people understand need of the hour.
"If each individual checks their actions and manages their needs, things can become so much better for the world. Remember the phase of corona when we were not allowed to go out and ruin the roads. The air became so clear, the nature could breathe when we were under check." Says Tulika in her interview with Mad4India
Crockery bank of Tulika is expanding brilliantly. More and more people are connecting with her each day, and she is helping more hands to protect the earth. Now Tulika is planning to start a green venture where she will be planting trees on barren lands.
Each home in India has a mother like Tulika who is stubborn to provide the best for their kids. We are proud of these mothers, and that is why we are Mad4India.

If you liked reading this story, you can also read about Arunima Sinha Conquered The Highest Peak In The World Mount Everest With An Artificial Leg
Image Source – Facebook Green Hands
If you know more inspirational stories about any person, company, new idea, or social initiative, write to us on mad4india.com, or share such information with us on Facebook or LinkedIn.