His doctors once told him that he won't be able to walk anytime soon. But here he is, breaking a 15-year-old record.
With unwavering focus and grit, Kamalakanta Nayak, a 28-year-old para-athlete entered into the Guinness Book of World Records on January 16.
With a nerving spirit and relentless passion, Kamalakanta Nayak, hailing from Odisha, set up a Guinness World Record by covering 214 km in 24 hours on a wheelchair on January 16.
He covered a maximum distance on a wheelchair, making all heads turn, hands clapping, and a standing ovation for this profound fortitude.
What makes you weak makes you stronger. The statement holds in Kamalakanta Nayak's inspirational journey.
From being told that he will likely walk again to set a world record in a wheelchair, he definitely has left his shining spark to all emerging heroes.
Today, Mad4India brings a heart-gutting and athletic story of Kamalakanta Nayak, a para-athlete who covered 213 km in 24 hours.
Kamalakanta Nayak Sets Guinness World Record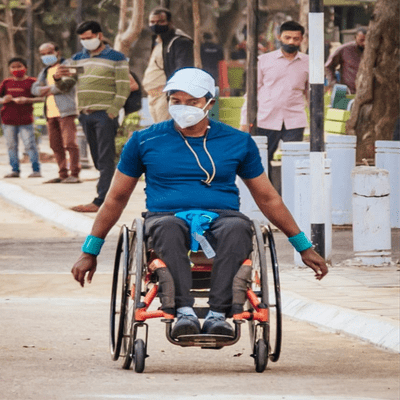 Para-athlete Kamalakanta Nayak attempted a Guinness World Record for covering a maximum distance of 213 km in 24 hours on a wheelchair.
He began his journey from Raj Mahal Square in Bhubaneswar. He used the 680 meter-long cycle track between Master Canteen Square to Rajmahal Square Cycle Track point.
Earlier the highest distance covered by a wheelchair in 24-hours was 182.4 km, which was achieved by Mario Trindade of Portugal at the Vila Real Stadium, in Portugal, on December 3 and 4, 2007.
In 2014, 8 years ago, Kamalakanta Nayak of Puri district in Odisha suffered a spinal cord injury while playing volleyball.
He is currently the captain of the Odisha Wheelchair Basketball Team.
It was tough to cover such a long distance, but Kamalakanta Nayak did it.
A total of eight cameras and GPRS systems were installed to monitor the marathon.
In addition to achieving this milestone, he was supported by the Odisha Wheelchair Basketball Association along with a team of Betterlife Foundation for this marathon and set up a Guinness World Records.
Kamalakanta Nayak's Journey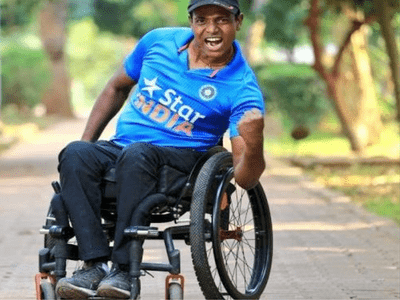 Born and raised in an interior village, Niajpur of Odisha's Puri district. His father is a farmer, while his mother is a homemaker.
Kamalakanta Nayak was 20 when he sustained a spinal cord injury while playing volleyball. His body was rendered completely lifeless below the waist with the injury of T6 level.
Kamalakanta first entered The Ability Marathon in Kalinga Stadium, which was held by the SSEPD (Social Security & Empowerment of Persons With Disabilities Department), the Government of Odisha.
Since then, he started participating in different marathons across the nation.
Kamalakanta Nayak is the only Indian to complete a wheelchair ultra-marathon of 139.57 km in 15 hours. He is also a 16-time half-marathon (21 km), 13-time full marathon runner (42 km), and Captain of the Odisha Wheelchair Basketball Team.
He also has a record-setting journey of over 4200 km on a wheelchair in 2020.
From Suffering Depression To Setting A World-record
Kamalakanta Nayak covered 213 km in 24 hours and entered the Guinness Book of World Records. From not being able to get up from bed and to a marathoner.
His story conveys that being differently-abled doesn't mean you cannot fulfill your passion. You can do everything just like any other person. He says that we can do all those activities just like any other person.
Kamalakanta Nayak struggled with pessimistic thoughts after the spinal cord injury, but his family, friends, coach, and doctors supported him.
He gives his gratitude to Dr. P P Mohanty of the National Institute of Rehabilitation Training & Research, Olatpur, who gave him external exploration and rejuvenated energy and life to move forward in life.
Kamalakanta Nayak achieved this feat in two days after breaking the previous record.
The 28-year-old is now aiming to qualify for Paris Paralympics.
Kamalakanta has earned this achievement with his focus, determination, and never-ending resolution for himself.
From not getting out of bed to setting a world record, he has come a long way. Being a special differently-abled person, his journey is inspirational and eye-opening to all who are feeling remorse and are in the same circumstance.
Mad4India hopes to see more success and roaring appreciation in the future. It is truly said when life gives you something, make the best out of it.
To know more about Kamalakanta Nayak, please check – Instagram
If you like this story, read the story about A Road Accident Changed His Life, This Doctor Now Runs A Mobile-van To Treat People For Free, Has Helped Over 1,20000 Patients
If you know more inspirational stories about a person, company, new idea, or social initiative, and want us to write it on mad4india.com, share such information with us on Facebook and LinkedIn.