Pabiben, the eldest of three daughters, has come a long way from being a "ben" (Gujarati for sister) to her two sisters to become a Pabi-ben to so many around the world. She is the millionaire representative of the "Rabari Artisans," a group recognised for its exquisite embroidery designs.
Pabiben, born in Bhadroi Village in the Anjar Taluka of Kutch Gujarat, has brought laurels to the country by making Rabari embroidery items. Once this village was lost in the soil of the desert and was considered a backward area and now has a well-known identity in Indian culture, all thanks to Pabiben Rabari. Pabiben discovered her own skills, she set up her own company and in fact, provided many jobs to all the women around her.
The courageous woman, who was born and raised in a small Indian village by her mother at a time when society considered living without "a man" in the home to be even more taboo, embarked on a singular path to success thanks to her innate artistic talent, self-confidence, and her mother's unwavering support.
This indigenous Rabari woman is now a well-known businesswoman who runs Pabiben.com, a handcraft business that helps tribal women gain economic independence and maintains the Rabari embroidery tradition.
Her Kukadsar-based business currently has over 25 employees and enjoys a large global clientele. Hollywood and Bollywood movies have featured Pabiben Rabari's work.
Indian Culture – In The Hands Of An 12YO Girl
The Dhebaria Rabari, her tribe, were renowned for their intricate embroidery work. For years this community preserved the indian culture of kutch embroidery. It was customary for women to bring embroidered items as dowry to their husbands' homes. Girls continued working on those pieces while still living with their parents and delaying their marriage. The village elders outlawed stitching for personal use after realising that this was resulting in later marriages.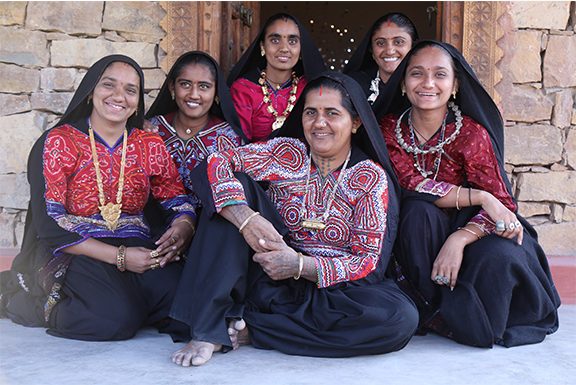 At the time, when she was just 12 years old, she served as an expert artisan for a group of women who were being paid by an NGO. She organised the local women to create a new art form called "Hari Jari," which is the machine adaptation of pre-made components, in order to preserve the Rabari tradition. and that is where she openly showed her love for art.
Her mother, who was a skilled embroiderer herself, had taught her. She developed distinctive embroidery styles like Hari Jari & Pabi Jari at a very young age. These art forms were a different way to keep the artwork active in order to to keep it going. Pabiben Rabari combined their widely used embroidery art with trims and ribbons.
Over the course of the 6 or 7 years she worked with the group, they progressed from basic machine embroidery and lacework to more complex designs for clothing, pillows, quilts, and bags. At the time, her salary was 300 Rupees per month, which was a sizable sum for women in that area. She happily worked for the NGO & enjoyed her work.
A New Page Of life
She got married when she was eighteen, and it's interesting to note that this was also the beginning of her journey to success. Few English people attended her wedding. As the village was a tourist attraction due to its indian culture and traditional rawness, large groups of foreigners would frequently visit the area for watching Indian culture.
One of the tourists became very interested in her handmade bags when he saw them, so Pabiben Rabari thought it would be nice to give him one as a gift. Little did she realise that her small act of kindness would later serve as the cornerstone of her journey. They took the bag back with them, which went on to become an "International Hit" and was later known as "Pabi Bags."
She now sells a variety of goods, including purses and bags, dhurries, toiletry kits, file holders, bedspreads, laptop bags, cushion covers, etc alongside other female artisans in her village. But the journey she now walks with pride was not easy at the start.
The Struggle She Hugged Made Her Into A Marvel
Her mother was carrying her third sister at the time her father died. She was just five years old. Although she was too young to comprehend her predicament at the time, she quickly learned about the difficulties her mother faced in managing a household and raising three daughters. After class four, Pabiben Rabari stopped attending school because her mother could not afford the fee, and this is when she found herself walking to the oath of her mother for making some pennies to support her mother.
She used to travel back and forth from the village to the water well, filling water for Re 1 for anyone who asked for the service. she also worked from farm to farm in the harvest season and did various odd jobs as per age to support the family. He lost the shadow of the breadwinner in the family and that is why she grew up to be one.
When she first began her buisness, the women of her area were not even permitted to leave their homes, much less leave the village to conduct business. But her husband would frequently advise her to start her own company after they got married, saying, "You are so fine at what you do, how much longer will you rely on others to get your products to market?"
She understood that he was correct, but she was too shy and thought she lacked the necessary marketing knowledge. She had no idea how to get in a connection and communicate with clients, but with her husband's persistent encouragement, she eventually did. She gradually started taking part in exhibitions in different cities, which helped her grow her business and acquire new skills. This is where the businesswoman got her push from.
Tho people made fun of her husband when she began travelling to exhibitions all over India, saying, "If you give your wife so much freedom, she will leave and run one day. Pabiben Rabari was blessed with both love and respect by her husband. Even when the whole world stood against her buisness, her man was still at her back. Her husband was her biggest motivator to her.
Pabiben Rabari.Com
Her team's artisans all come from families that are similar to hers. Her village had long been sceptical of her efforts and methods, but after they witnessed her work being acknowledged by the whole world, they all began to come around. Her success enabled her to accomplish what was most important to her, the zeal to teach embroidery to more women in the village and lead them toward independence. Today, 10–20 women work together in one location, and those who are unable to leave their homes for extended periods of time due to young children or even other responsibilities "work from home".
Pabiben Rabari has been honoured with many awards till now. She was honoured with many awards from the Central, State Governments and social organizations. She was even invited to KBC as a special guest and the list of international presence made by her is countless.
Many people find inspiration in Pabiben's journey. Since they have little or no formal education and have no direct access to resources on the market, aspiring women artisan small business owners can certainly connect to her struggle.
The new start of the Pabiben Rabari – Kaarigar Clinic initiative, which is to endorse rural artisans so they can also dream big and create their own futures, was created to empower these artisans. By helping local artisans strategically develop their traditional craft practices into self-sustaining businesses, the Kaarigar Clinic initiative upholds a Gandhian ideology of rural development.
If you loved reading this story, you can also read Entrepreneur Earns Rs 2 Lakh/Month By Making Eco-Friendly Products; Empowers Local Artisans
If you know about more inspirational stories about any person, company, new idea, or social initiative, and want us to write it on mad4india.com, share such information with us on Facebook or LinkedIn.