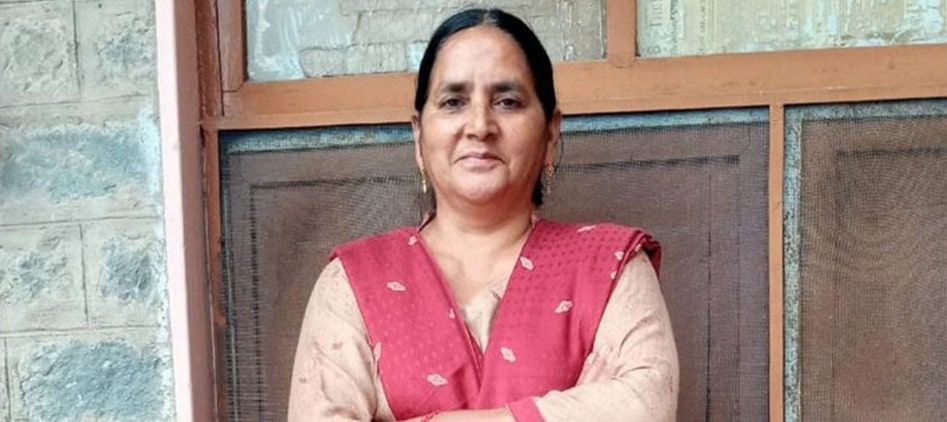 Nirmal Chandel was welcomed with these improprieties at what was intended to be a happy story. It was her brother's wedding in 1994, and the groom clothes she had bought for him with her own money was dubbed manhood (bad luck).
On the other hand, her brother defended her, wore the clothes, and even danced with Nirmal.
This occurrence was neither isolated nor the worst for this Mandi, Himachal Pradesh inhabitant. Nirmal's husband died of a heart attack in 1989, while he was 30 years old. She was forced to live in a dimly lit room without even a fan for a year. Widows are frequently ostracised, and Nirmal's case was no exception.
She was not allowed to wear bright colours, eat with the rest of the family, attend functions, or do anything that resembled a regular life after her husband died.
Nirmal decided to take matters into her own hands to break free from her captivity. She joined an NGO called Social Upliftment Through Rural Action (SUTRA), where she was trained and worked as an accountant for Rs 350 per month.
Nirmal has impacted the lives of over 16,000 widowed, single, and divorced women due to her fight for her rights and freedom. She founded the Ekal Nari Shakti Sangathan (ENSS) in 2005 to lead the upheaval battle and effect policy changes.
"Logo ne Kaha ki main apne pati ko Kha Gayi (People told I killed my husband)." They claimed I could not bear him children and that my buri Nazar (evil eye) had taken his life while he was so young. My parents turned their backs on me, and my in-laws regarded me as a burden. My life was on the edge of being taken away from me, but my friend saved me by connecting me to a women's welfare NGO. Nirmal tells The Better India, "Once i was independent, i wanted to help others."
Nirmal Chandel – Finding My Identity
Given that she was only a metric pass, Nirmal expected to gain a job at Sutra as a secretarial assistant. She was surprised when she was offered the position of accountant.
She had never seen a cheque or a computer before, and she had no idea how many zeroes there were in lakhs. She was, nonetheless, eager to learn. So she learnt the ropes of auditing, tallying, accounting, and the next 15 years.
"For the first time in my life, I was permitted to make mistakes. People were curious about me. My contributions and work were quite important. Because we live in a tiny village, knowledge of my work quickly spread. I was shunned, and others used every opportunity to humiliate me. But I did not care what somebody imagined because I was working and living at the Sutra shelter. Several widows approached me around this time to discuss their concerns. Their circumstances were even worse than mine. TheSingle widow children were left hungry. Nirmal says, "I genuinely wanted to help them."
In the meantime, her parents, embarrassed by their daughter's newfound independence, ordered her to quit her job and provided her with a Rs 500 monthly allowance.
"I declined because when you rely on someone for your financial requirements, they begin to treat you as if you owe them your life. If I took their money, I knew my parents would limit my independence. She continues, "I wanted to create my own identity and live freely."
When Women Join Hands
Nirmal's life took another upward turn in 2005. In 2005, Sutra invited her to a widows' convention in Rajasthan. The rally's purpose was to march to the Chief Minister's residence and demand single women's rights.
Nirmal, who had never travelled outside of Himachal, found it to be an eye-opening experience. She was startled to see other women from different places sporting bright outfits and jewellery while dressed in a beige sari. Nirmal saw the value of women being confident and unapologetic for the first time as she stood among women with similar stories.
"Single women suffered biases from society regardless of where they lived in the country. Why are widowers (male widows) allowed to remarry and continue their lives, whereas we are supposed to commit Sati or live in seclusion? So many questions were raised that I would not have known about if it had not been for Sutra," Nirmal adds.
So, when she returned from the march, she organised a similar meet-and-greet for all the windows in the Mandi district. She worked with several non-governmental organisations to get the message out.
Despite rumours that Nirmal was trafficking women, around 120 widows from several districts, including Lahaul and Spiti, showed up. They gathered at Sutra's offices and wore bindis and sindoor as a quiet protest.
These ladies, who had not ventured outside since their husband's death, were now erasing years of patriarchy with a single gesture. In every way, it was momentous.
She started a WhatsApp group to post job openings, and she claims that every year since 2005, more than 150 women have been able to find work.
Next, in all of its rallies, workshops, and awareness sessions with the communities, the organisation replaced vidhwa (widow) with equal Mahila (single woman). The villages were compelled to adjust their attitudes toward widows as a result of this.

nirmal chandel, nirmal chandel, nirmal chandel, nirmal chandel, nirmal chandel, nirmal chandel, nirmal chandel, nirmal chandel, nirmal chandel, nirmal chandel, nirmal chandel, nirmal chandel, nirmal chandel, nirmal chandel, nirmal chandel, nirmal chandel, nirmal chandel, nirmal chandel, nirmal chandel, nirmal chandel, nirmal chandel