Swami Sivananda is a great yoga guru. He was born on 8 August 1896, in Sylhet District, Bengal Presidency. Sivananda teaches and practices yoga ghats in Kashi, Varanasi. He is a very kind and generous person. Recently, he became the oldest person to receive Padma Shri. He had been honored with many awards including Yoga Ratna Award and Basundhara Ratan award for his kind and giving act to the poor and needy.
Sivananda taught yoga on the Ganga river banks, Varanasi, for about 30 years. Over the last five decades, he served hundreds of beggars by managing food, clothes, blankets, nets, utensils, and many more other things for their needs.
Beginning of an Inspirational journey
Sivananda was born in a very poor family. His parents were beggars, when he was just six his mother, sister and father died within a month, leading him to travel to Kashi from Bengal. There he started staying at Guru Omkarananda Goswami's ashram, his guru taught him about spirituality and practicing yoga, which he was not taught academically. When he was a kid, his parents used to feed him only boiled rice because they couldn't afford anything else.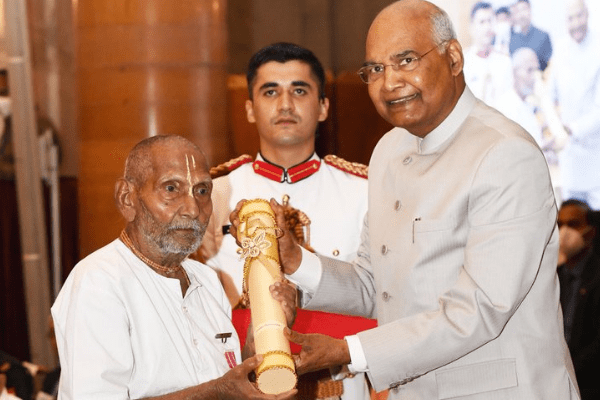 He joined his guru for a tour of India and he ended up in them living in the holy city of Varanasi today. Though he was poor, he grew with the help of his positive attitude towards life and down-to-earth nature.
His Dedication And Secret Of Longevity
Swami Sivananda received attention globally for his long and healthy life. He has always been optimistic. He perceives poor people as living gods and tries his best to serve them the best he can. He motivates other people to do the same so that when they do charity they too feel the joy of giving and later on get involved in charitable work.
This is the power of #YOGA 👏🏻

Such an inspiring video of 123 year old Yoga Guru Swami Sivananda – who received #PadmaShri award recently.

Kudos to his Spirit , dedication and commitment 🇮🇳
(VC : SM ) pic.twitter.com/etQop9qdfD

— Sonal Goel IAS (@sonalgoelias) March 23, 2022
He is also known for his commitment to inspiring people to get vaccinated against COVID after immunizing himself being 125 years. Many hospitals across the country, performed different master health check-ups on his vital organs and systems, to know about his lifestyle.
Swami Sivananda told management team members and doctors that the secret to his long life is different yoga and exercises. He leads a simple and desire-less life. He eats simple food and lives his life dedicated to the poor and needy.
He wakes up at 3 am and bathes in a river, then practice yoga. He eats very simple food with no spices or oils. He says that he never had a full diet and eats only half of his appetite. According to him, It reminds him of his humble background.
During his lifetime he was a yoga enthusiast and a monk. He still lives alone, he never married or had any children. Swami Sivananda currently lives in Varanasi, Utter Pradesh, he claims an age of 125 years and 233 days.
Awards And Recognitions
Swami Sivananda received many awards which include, the Yoga Ratna Award, Basundhara Ratan award and Padma Shri.
Before receiving Padma Shri, Swami Sivananda bowed before the Prime Minister, Narendra Modi, and the President, which led him to receive another round of applause from the guests. In response to this Prime Minister Modi also bowed along with touching the ground.
Swami Sivananda was dressed in a white kurta with dhoti and bowed again before he reached the dais, the President stepped held and helped Sivananda to rise to his feet, and then he handed over the award with the citation.
125-year-old yoga practitioner, Swami Sivananda 🙏🏼 conferred with Padma Shri Award by India's President Ram Nath Kovind pic.twitter.com/1fCeWNmOjy

— حسن سجواني 🇦🇪 Hassan Sajwani (@HSajwanization) March 25, 2022
The story of Swami Sivananda inspires each one of us to be optimistic, live our life the best we can and help the needy. He taught us that being poor never stops you from achieving your life goals. We wish that Swami Sivananda has a great future ahead and he keeps motivating other people to do good deeds.
If you like this story, you can also read CanKids Helping Thousands Of Children To Battle Cancer Through Support And Care
If you know more inspirational stories about any person, company, new idea, or social initiative, and want us to write it on mad4india.com, share such information with us on Facebook or LinkedIn.