Zoya Lobo, India's first transgender photojournalist residing in Mumbai, Maharashtra, has seen it all. From days of facing innumerous taunts to not being financially stable to witnessing the good side of life by doing what she loves doing. The moment Zoya Lobo(transgender) picked up the camera, learned its uses, and looked through the lens, she knew it was something she wanted to do for the rest of her life. To better understand her life, her struggles, and her entire journey to date, we interviewed her.
1. Tell us a little about yourself
I'm Zoya Thomas Lobo and I'm the first transgender photojournalist of India, based in Mumbai, resident of Bandra West. I'm a Christian by birth, but I'm someone who loves and respects every religion. And Navratri is one festival I celebrate with pure love, immense happiness, and endless joy. It's a festival I celebrate with all my heart.
2. How would you like to describe your childhood days?
So my childhood days were very memorable. But sometimes my friends used to bully me, tease me. During that time, whenever my elder sister found out that they were bullying me, she would come to my rescue. She fought and argued with them for me.
I received education from a convent school but dropped out in the fifth grade. Initially, we stayed in Mahime Bhatiya, a Cooperative Housing Society. There, my father worked as a watchman. After my father's death, we had to leave the flat because of some complications. We went to Kapad Bazar in Mahim West and that's where I spent most of my years.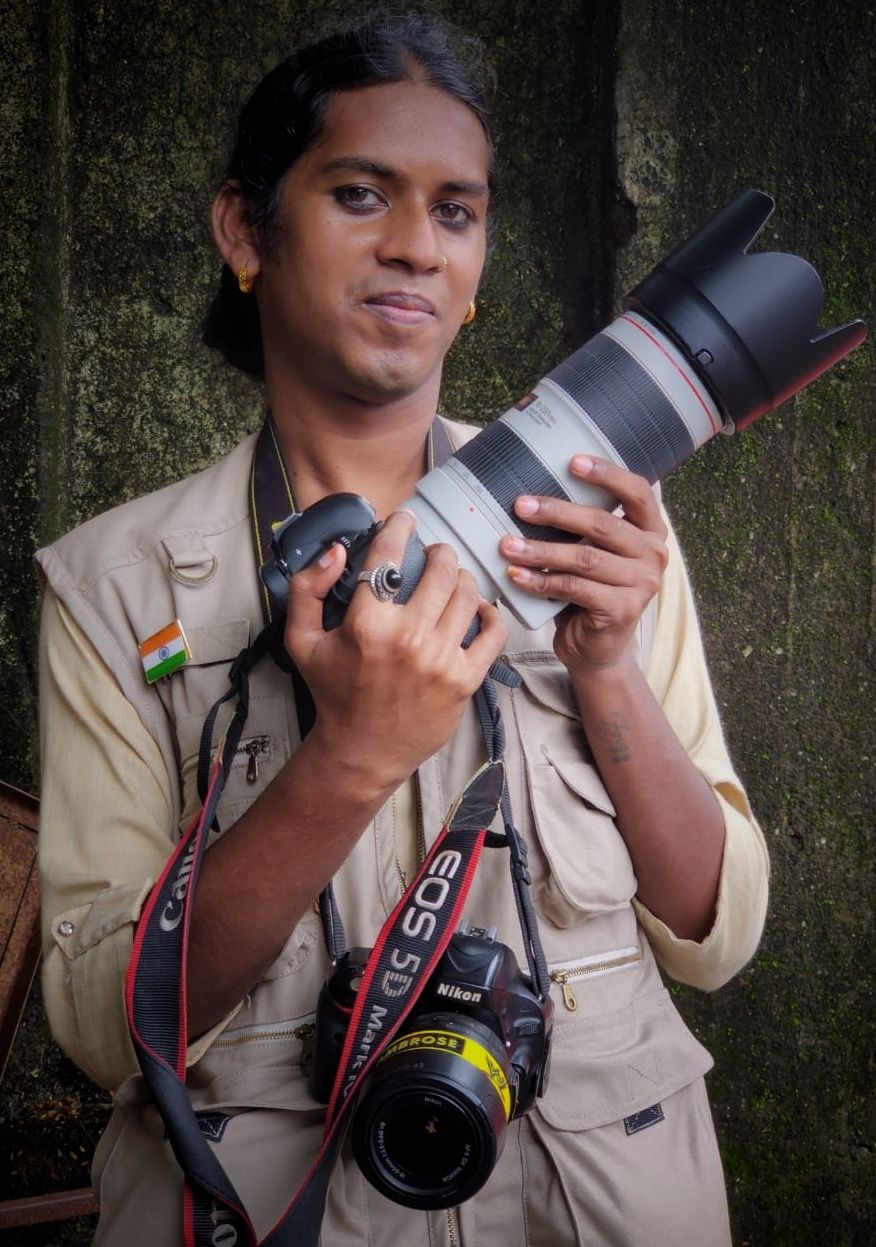 3. When and how did you find out that you are a transgender?
After a while, around that time, I found I was different from others. I enjoyed playing girly games and loved hanging out with girls, mostly. After I joined the transgender community, I realized that I'm also like them. I was 18 years of age when I joined the transgender community. But before that also, I used to assume I was a woman. It took me a long time to accept that I'm different I'm a transgender, but eventually; I did accept myself the way I'm.
After I shifted to a new place, I faced bullying there too, but I was grateful to meet a few good people too who didn't look down upon me. Eventually, I got to understand more about the transgender community and I told my friends there that I was gay. They kind of accepted me, but never took me seriously. So every evening when all of us used to hang out together, they always told me to behave like I'm straight and not otherwise.
They always tried correcting me like being me was wrong. They are still friends with me on Instagram and we talk often, though. But one of them said that he feels ashamed to talk to me and hang out with me in public. As long as they're talking over the phone, he's okay with it.
4. What were the difficulties you faced after coming out as a transgender?
To be honest, I didn't come out to everyone as a transgender. I just told some of the people who were always around me. I met a transgender where I stayed and I told her I was transgender. That's when she said that she knew since day 1 that I'm transgender but wanted to know from me.
5. As we all know, transgenders do not have a great deal of occupations to choose from. So, how did you manage your expenses initially? How challenging was that period of time for you?
That period of time was really difficult and filled with struggles. I used to beg in the trains and at signals. I used to manage my expenses with those earnings. At times, it was manageable, but there were days when it was slightly difficult to manage. Sometimes, the police caught and charged a fine of Rs.1200. I would have to go and pay the fine. That part was still okay, but in doing so, a lot of time would get wasted. By that time, the crowd would lessen, resulting in little earning.
The crowd I witnessed after returning from clearing the fine was different. There were a few good people who behaved well with me, but most of them behaved like I didn't belong in this society. Some of them also told me to stay away from them, not touch them as I'm a transgender, although no contact happened. These instances were a little heartbreaking.
6. How did you deal with your critics?
There was an incident where I was in the women's compartment and some women asked me to shoo away and I couldn't control my anger then. I told her that just like you're a part of the society, I'm also a human, what if I'm a transgender, so what is it with this shoo-away thing? I also said that our transgender community still lacks support and is a step behind the remaining society because of these ill thoughts.
Apart from this, in my journey as a transgender photojournalist, I found several people who gave me constructive criticism and that helped me to get better every day. I feel so blessed to have found them as they helped me to grow and improve as a photojournalist. I used to show my pictures to several seniors I met and talked to them about it. They used to tell me which pictures were out of focus, shaky, etc.
So, with every correction, I improved, and now I can click a decent-quality picture. Though sometimes some photos become blurry, shaky, out of focus, I'm better at it today than I was yesterday. I'm still learning and working on my photography skills. As we all know, practice makes us perfect.
7. How and when did your journey as a photojournalist begin?
I used to bunk school and go to see paintings and photography exhibitions. Whenever I went to see those exhibitions at Jahangir Art Gallery, in Bombay, I felt happiness from within taking over me. Every time there was an article in the newspapers about art exhibitions, I found the address and went to visit it. After dropping out of school at age 5: I enrolled myself at the National Institute of Open School. I used to see cameras in the hands of several people but never thought that I could buy one.
I was a part of a short film named "Hijra Shraap ki Vardaan" on transgenders and through one senior there; I got the entry as a reporter at one of the press meets. A few of my friends were also a part of the short film on transgender. During the award ceremony held after the success of the film, one of the editors saw a spark in me while I was delivering a speech regarding our transgender community. He asked me to visit his office for an interview and asked me to send a passport picture of myself which I had sent over Whatsapp.
The next day when I visited his office, I saw that my press card and appointment letter were ready, which was a surprise for me. That's when I realized he had appointed me as a journalist for his newspaper. So after a few days, I asked him if I could use one of the office cameras for my work purpose and he agreed.
Another incident that played a role in my journey as a transgender photojournalist:
I never thought I would be a photographer rather, I had dreams of being an IAS or IPS. But fate had some other plans for me, which turned out to be the best one for me. My artistic mind became my biggest companion in my photography journey which came out to be the first transgender photojournalist. I first visualize the pictures in my mind and then capture them with my camera. I saved up my earnings from the local trains, which summed up to Rs.28000 and I skipped my rent payment for a few months, so saved up that as well.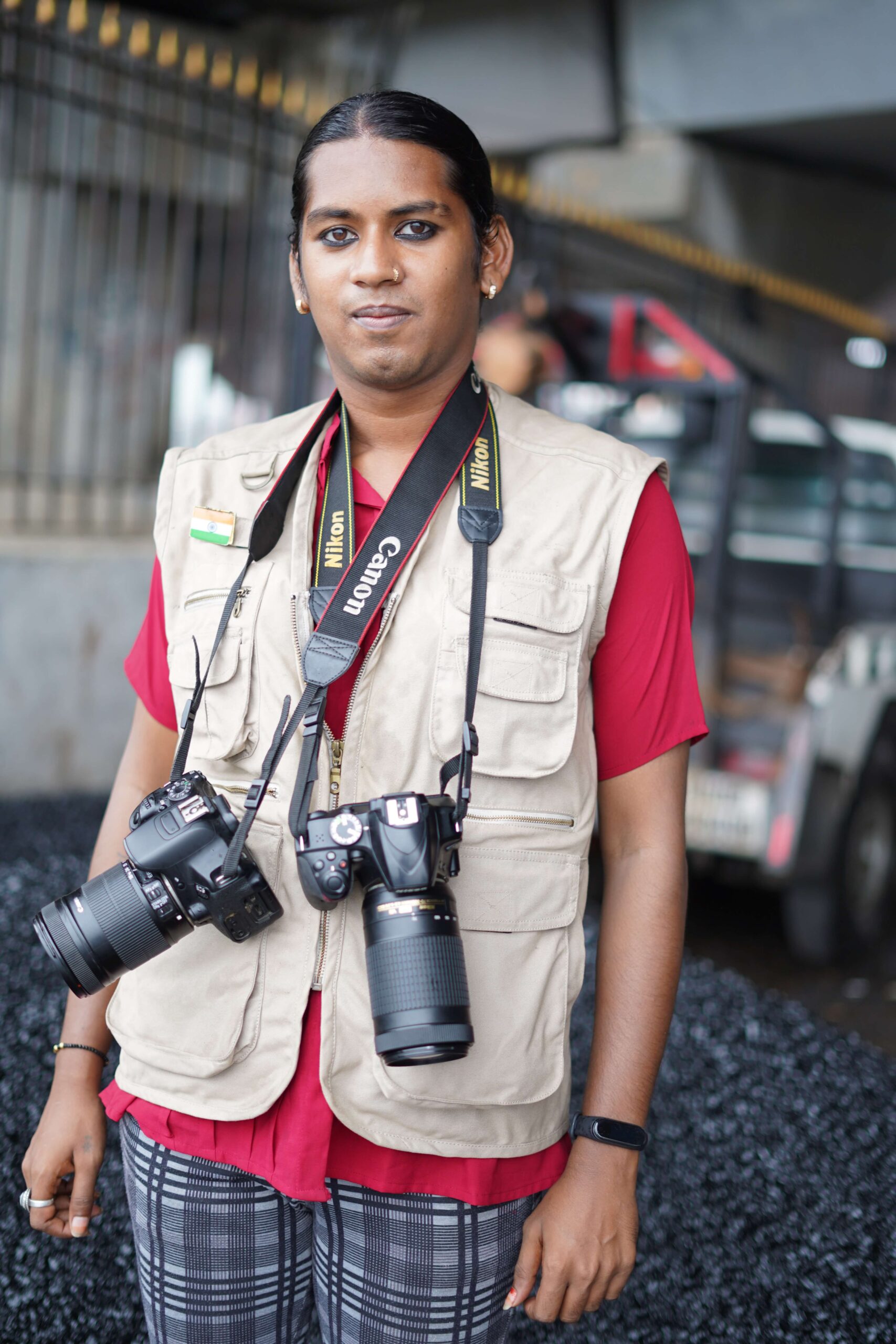 One fine day, I asked at one of the musical instruments shops if they have a violin, so they behaved rudely with me, thinking I couldn't afford it. I told them to never judge a book by its cover because one may never know what knowledge that book would give them. After that, I spotted another store, so they behaved nicely with me, allowed me to touch the violin, told me about it and I bought it.
I was about to head back home and that's when I saw a camera shop and walked in to see it. The moment the sales representative told me about all the things that can be done using a camera, I was surprised. Then I thought I can skip the night's meal but I have to take the camera home. After a little bargaining, I bought the camera. On my way back home, I started clicking pictures despite not knowing anything about it.
A few days later, a rally took place, and I went to click pictures of it as I already had the press card with me. That's where I met a senior photographer. I contacted him after a few days asking about what type of lens is to be used for what kind of photography. So, he asked me to meet him and discuss everything in person. Then he explained everything about camera features and uses, the lighting adjustments, the angles, etc., to me. Along with that, I researched on the Internet and learned more about it. And that's how my journey as a photojournalist started and a transgender turned to be a photojournalist.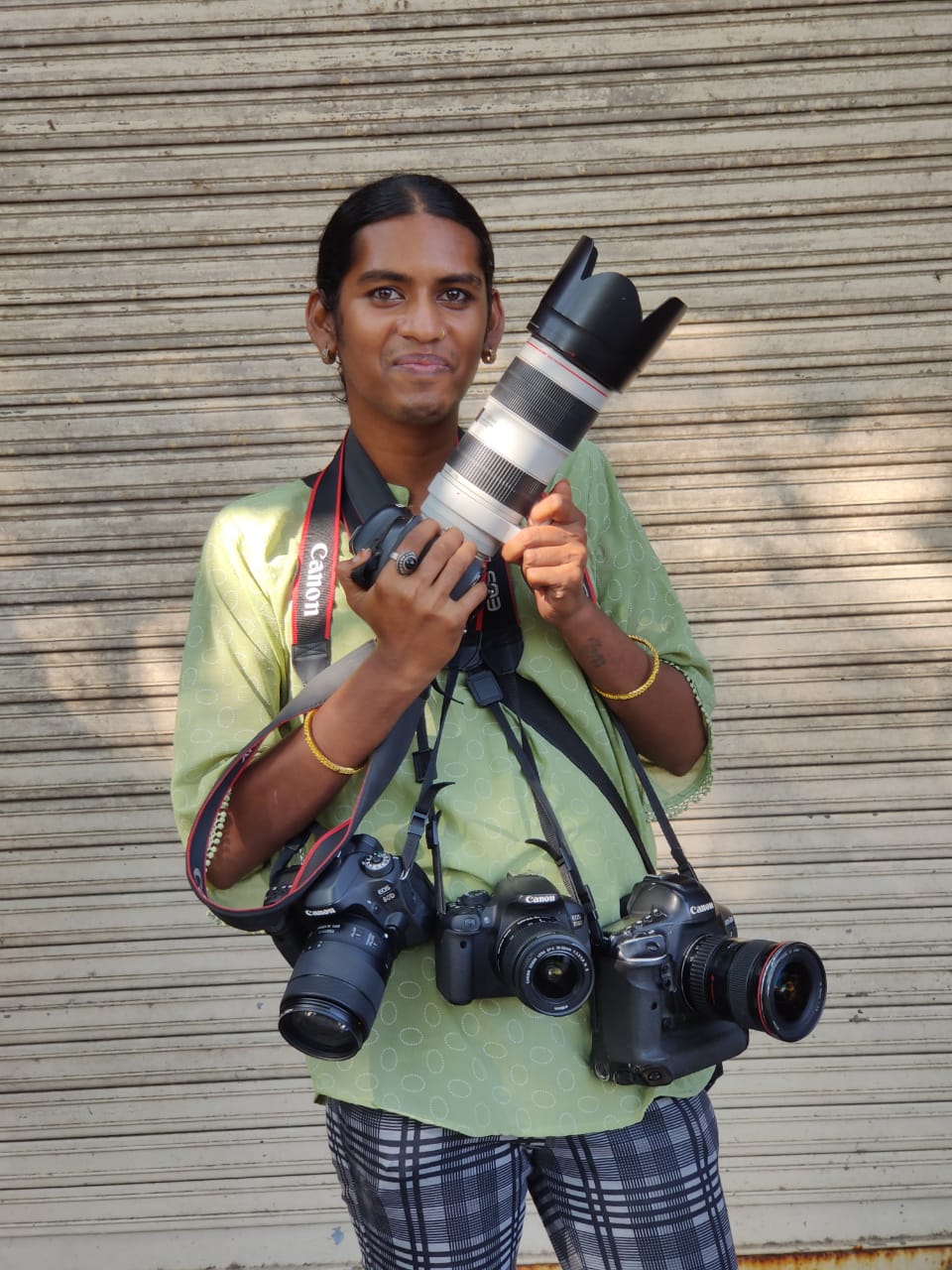 8. How would you describe your success story?
The pandemic protest in Bandra that I had covered got me the recognition I've today. Many publications had published my photos, and that's when I got recognition as the first transgender photojournalist. Several photojournalists, photographers, and reporters came to know about me. After that, whenever I went to shoot situations regarding the pandemic, people started recognizing me. And when the pride month came, people started interviewing me, covering my journey, etc.
8. Even though we're advancing in terms of technology, we as a society haven't updated our mindset yet. Transgenders are still abandoned or looked down upon. How do you think we can solve this issue?
We can solve this issue by creating more awareness in the form of videos, ads, pictures, storytelling on social media platforms, television, etc. The first step is for the families to become a little more accepting. If the family accepts you for who you are, nobody will dare say a word against you and even if they do, it won't make much difference to you.
Here I agree with Zoya Lobo, because to progress as a society with accepting people, we need to progress as an individual with an accepting mentality.
9. You've come a long way. But what is that one dream you pray hard for to come true?
I wish to be a wildlife photographer. Wildlife fascinates me and I would love to capture them. It is one of those dreams that keep me going.
10. Is there anything you would like to mention?
All I would like to say to our society and the families is that we transgenders need you all. If you give us the acceptance, respect, and love we deserve, we'll be able to do a lot better than we normally do. We could get proper education and work instead of begging on the streets. If our families and society accept us and give us that pleasant environment to live in, we can guarantee to give our 100% and make them proud.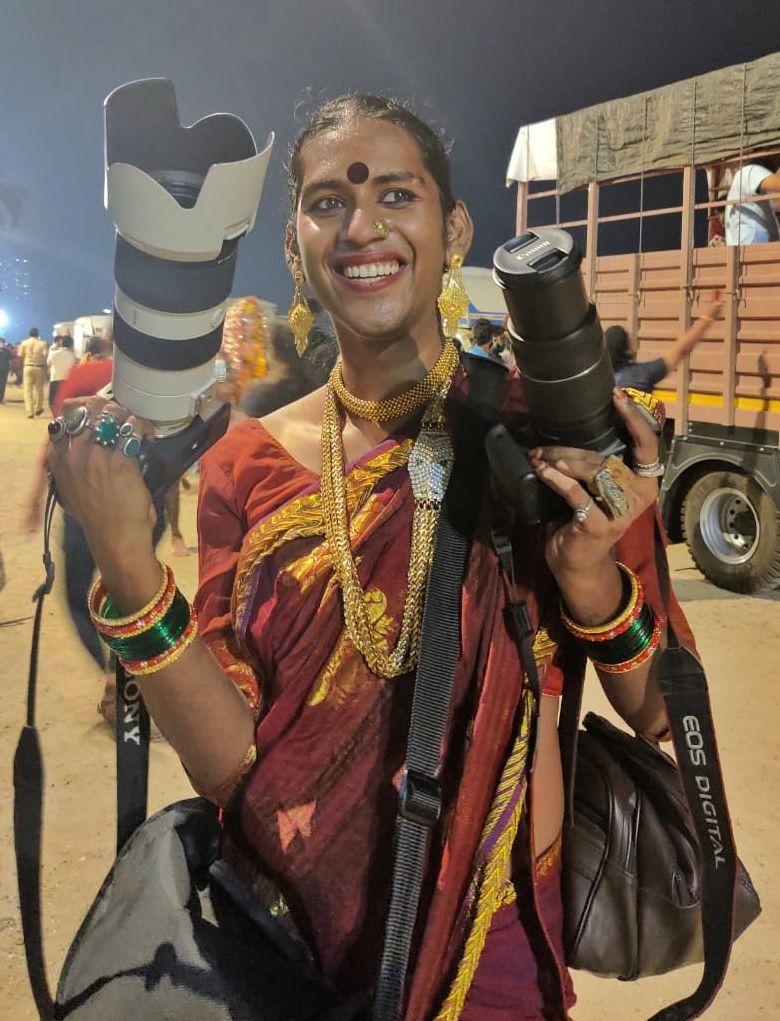 To know more about Zoya Lobo, please check – Instagram, Facebook, Twitter
If you liked this story, read about Vicky Roy, a ragpicker and homeless child turned internationally acclaimed photographer.
If you know more inspirational stories about a person, company, new idea, or social initiative, and want us to write it on mad4india.com, share such information with us on Facebook and LinkedIn.